If you're a recent college graduate or getting ready to graduate, have you considered a career in the retail furniture industry? There's a lot of opportunity in our industry and we offer a wide variety of career paths that will allow you to reach both your personal and your professional goals.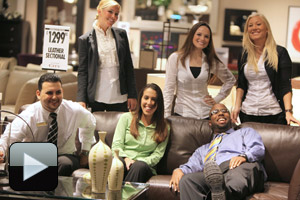 At City Furniture we believe strongly in promoting from within and we work closely with each of our Sales Managers in Training (MIT's) or Sales Associates to develop a career path for them that starts in our showrooms, learning the basics of our industry and, and provides them with the skill and knowledge to grow into future roles.
The best part of working as an MIT or Sales Associate at City Furniture is that we offer exciting career opportunities in a very non-traditional work environment. If you're looking for a quiet office environment with cubicles and walls, City Furniture isn't the place for you. But, if you're interested in an energetic, fast-paced, growth oriented environment where you can grow as an individual and grow in your career, take a look at what we have to offer you and how you can find a home for your career, today and tomorrow, at City Furniture.
Sales Manager in Training
If you're interested in a career in sales management, our Sales Manager in Training program is the perfect opportunity for you to develop your skills and fast-track a successful career as a Sales Manager for City Furniture and Ashley HomeStores.
Energetic, fun and self-motivated individuals may be asked to join this program where you can put your strong work ethic, integrity and drive to succeed to work within our showrooms. Working as a sales associate, you will be trained over the course of 8-12 months in Initial and Advanced Sales Professional Training, Showroom Operations Procedures Training, Human Resources Awareness Training, Continuous Process Improvement (Lean) Training and Leadership Development Training through instructional classes and self-paced computer based training modules.
If you're interested in a fast growth career, have an entrepreneurial nature and are ready to take charge of your future, we'd love to talk with you about these opportunities.