At the heart of every great business, there's an entrepreneur with a vision and a passion to be the best in the business. City Furniture is no exception, and today Keith Koenig, still leads the company that his brother Kevin Koenig built from the ground up, always focusing on quality and value for the customer.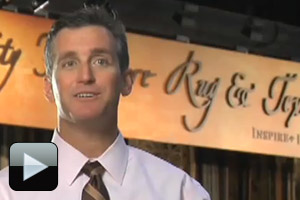 How it All Began
City Furniture's history began in the summer of '71 when Kevin Koenig took some time off after graduating with his MBA from Florida Atlantic University. While vacationing in Provincetown, Massachusetts, Kevin took a job in a little shop for a few weeks. He returned home to Fort Lauderdale with $1,500 in his pocket and set out to open his first store: Waterbed City, on the corner of Commercial Blvd and Dixie Highway.
From this modest 800 square foot showroom, Kevin sold waterbed structures by day that he made by hand at night. When Kevin wasn't selling waterbeds, he was out educating the public about their benefits and their use to help fuel his business' growth. His business savvy, advertising efforts, the quality of his products and the service he delivered kept customers coming in, leading to his first expansion to a 1400 square foot showroom, and even more product offerings.
Kevin and his brother Keith, along with Mike Lennon, Garry Ikola and Steve Wilder, partnered up and continued to open up new showrooms, incorporating dressers, nightstands and mirrors to complement their waterbeds and offer customers a more complete bedroom furniture experience.
Reinventing a Successful Retail Company
By 1990, after 17 years of consistent growth, the waterbed industry had reached its plateau and the group introduced innerspring mattresses to the showroom floors. The company exploded and six years later, in September, 1994, Waterbed City evolved into City Furniture, offering not just bedroom furniture, but a full line of home furnishings to include living and dining room furniture, wall units, home theatre, and ready-to-assemble furniture.
As an emerging business, the company continued to focus on its core: to combine quality brand-name home furnishings with exceptional values, and a strong commitment to great customer service. We even added FUN, making our showrooms an exciting, enjoyable place to shop for the entire family!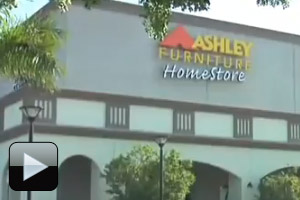 A Solid Foundation Built for Growth
City Furniture and Ashley Furniture Brands have been partners for over 20 years. Both companies formalized the relationship in 2005 when City Furniture was selected to be the owner operator for Ashley HomeStores in South Florida. Since then, City Furniture has opened 9 Ashley HomeStores showrooms and plans to open another 4 showrooms in the coming years.
Ashley HomeStores has grown into the #1 Home Furnishings retailer in the USA with over 400 showrooms. Ashley HomeStores has launched a $50 million dollar national advertising campaign and plans to continue expanding and innovating the Home Furnishings Industry. City Furniture is considered a key partner and is committed to building on the successful relationship.
With more than 20 current City Furniture and Ashley HomeStore locations and planned expansions to new locations throughout Southeast and Southwest Florida, City Furniture is a business focused on fast growth and exceptional service. With new and innovative home furnishings and accessories hitting showroom floors everyday, we're proud to be the #1 furniture retailer in South Florida.